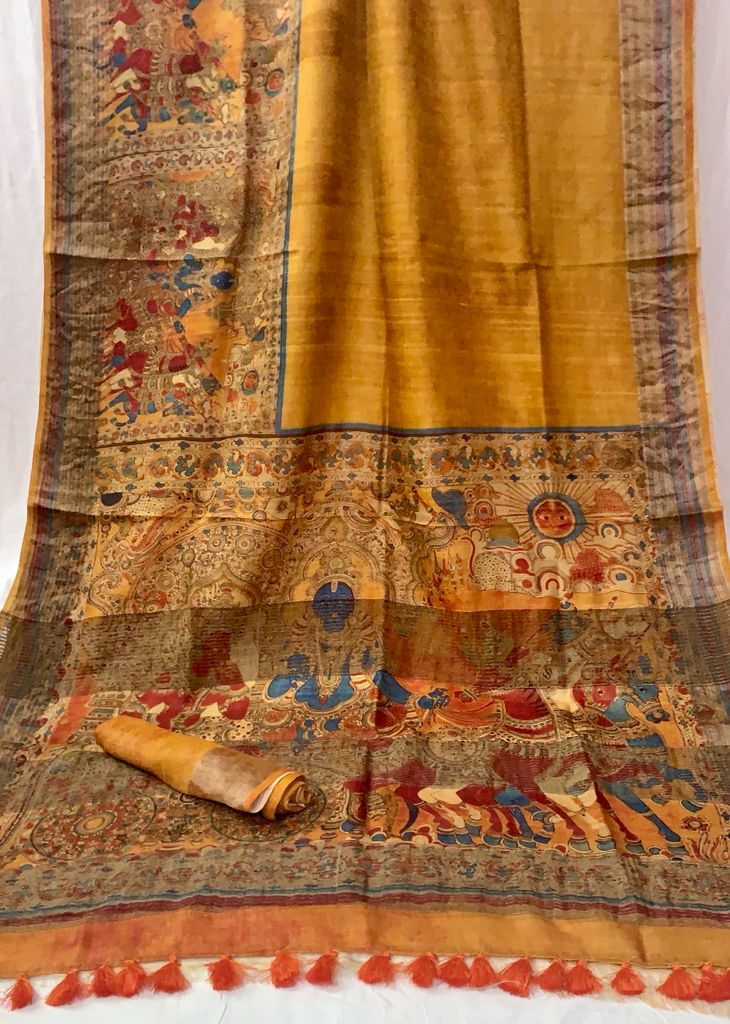 Update! - Zynah covered by LBB - https://lbb.in/bangalore/zynah-designs-handloom-sarees/
This is a beautiful pure tussar
 silk saree with digital kalamkari print. This is a very softly acid-washed and strong-quality saree.
The saree features a solid plain body. It has plain zari weave and kalamkari florals throughout the border of the saree. The bottom border and the pallu have traditional and Indian epic print where ancient maharaja is going on an Utsav on an elephant and the people are following with music instruments and weapons, it is very colorful and ethnic. 
The pallu edges are finished with adorable multi-color tassels. 
This comes with a contrasting color floral print blouse piece with a zari weave border and silk mark certificate. 
Kalamkari is a type of hand-painted or block-printed cotton textile produced in Isfahan, Iran, and in the Indian state of Andra Pradesh. Only natural dyes are used in Kalamkari, which involves twenty-three steps. Kalamkari specifically depicts epics such as the Ramayana or Mahabharata. In recent times, many aesthetically good figures such as musical instruments, small animals, flowers, Buddha, and few Hindu symbols are also been introduced to Kalamkari.
Color: Yellow
Length: 5.5 Meters
Width: 1.2 Meters
Blouse: Printed blouse piece (80-90cms)
Type: Pure Tussar Silk Kalamkari Saree
Best suited for: Daily wear, casual wear, formal wear.
Add saree 
fall
 and 
edging
 from 
here
Want a stitched blouse, add from here
Note: Colour may slightly vary due to photographic lighting sources or your monitor settings.
About Zynah:
Zynah is one of the fastest-growing female apparels brand based out of Bengaluru, India with a vision to make 'unique, chosen designs created by chosen artists from different parts of India and China' available for the whole world. Zynah is growing to become the one-stop fusion apparel shop for every female on the planet.